ARCHIVE.PHP
📢📢 ANNOUNCEMENT – VOICES TOGETHER CONCERT POSTPONED 📢📢

With the growing concern of the COVID-19 (Coronavirus) we have taken the decision to POSTPONE the joint concert Voices Together concert with Rossendale Male Voice Choir on Saturday 4th April at St Helens Townhall.

This not a decision the committee have taken easily however, to protect both choirs and the public we have no other choice.

If you have any queries please feel free to get in touch via the Facebook page or via email- conductor@haydockmvc.com

For more information, please see attached letter below.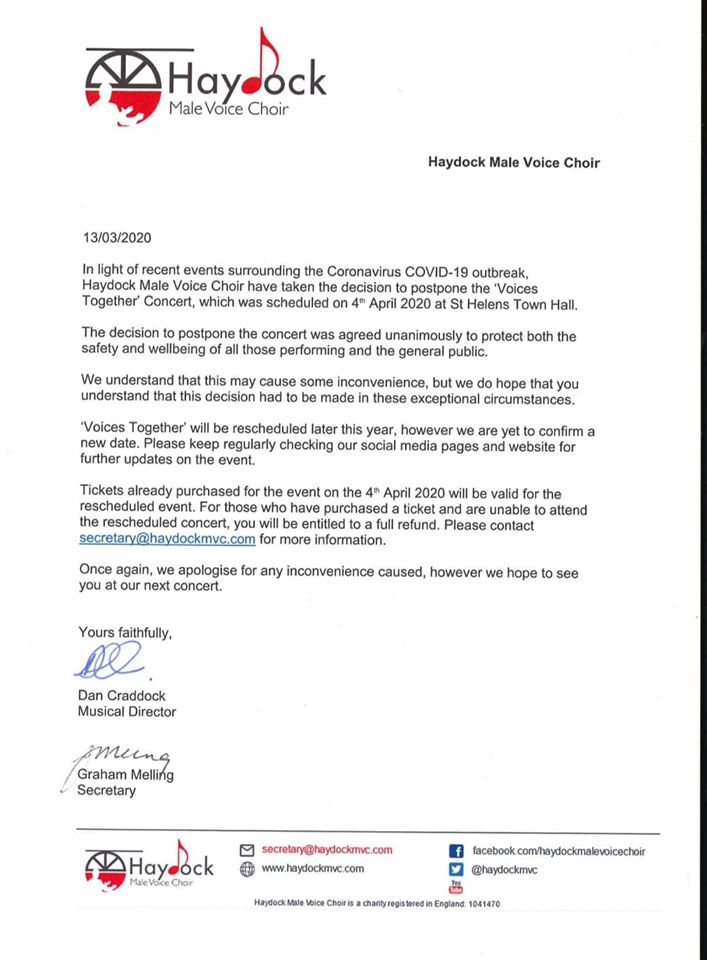 Midsummer's Eve Concert for the Golborne Ex-Miners

The men were in fine voice last night as they performed the annual Midsummer's Eve concert in aid of the Edge Green No.09 Mining Memorial. The programme was varied, featuring traditional choral classics to popular repertoire.
The concert opened with great gusto as the choir performed their first two items, 'With a Voice of Singing' followed by 'Let There Be Light'. The first set concluded with a rousing arrangement of the traditional 19th Century Hymn, 'Onwards, Christian Soldiers'.
True to form, Haydock presented various solo items, the first by our very own Dennis Anderton which was very well received. Well done Dennis!
Our second set focused on events much closer to home. We opened with an arrangement of the song 'Take Me Home''. The words provided much to reflect on.
The choir featured a beautiful and poignant poem written and performed by Haydock member, Bob Welch. The choir finished this set with another popular choral arrangement of the piece 'Homeward Bound'.
In true Haydock spirit, our next item featured a duet entitled 'The Gas Man' performed by Gordon and our very own Musical Director, Dan Craddock. It was certainly a winner with the audience!
The first half concluded with arrangements of 'Grace', 'Just George!' with the obligatory banjolele accompaniment and 'Love Could I Only Tell Thee'.
The second half started off with the rousing arrangement, 'Rachie', followed by the male voice classic 'American Trilogy' featuring Organ accompaniment. The choir concluded their first set with an exciting arrangement of the spiritual, 'Wade in the Water'.
Tonight, the choir bid farewell to our amazing and talented accompanist, Rachel Fright. Dan and the choir wish her all the best for the future. Rachel performed her solo 'Nimrod' from Elgar's Enigma Variations which was performed with poise and elegance. Rachel will always have a place with us at Haydock.
It's almost impossible for Haydock now to perform a concert without including the popular march, 'When the Saint's'… I wonder why?!
The concert concluded with a stirring performance of 'The Lord's Prayer', 'We Rise Again', and of course as the encore, 'New York, New York'.

If you liked what you heard last night, why not book us for your next public or private event. Click 'Book Now' on our facebook page, or alternatively email us at secretary@haydockmvc.com.
Missed us last night? Check out our performance of 'We Rise Again' at St Thomas's Church, Golborne

Posted by Haydock MVC on Saturday, 22 June 2019
An enjoyable evening for all

HMVC concert at Newton-le-Willows on Friday 31st May was performed to an appreciative audience. The programme was varied as usual and included some well known, well loved Welsh Male Voice standards to a rendition of Just George, the George Formby medley arranged for Haydock by its past President, Goff Richards. The choir had as its accompanist Jenny Durban who was able to stand in last minute. Jenny was a regular accompanist for the choir before she left to concentrate on her teaching career.

John Peet
Lovely evening listening to the Haydock MVC As usual not any pics but did take a short video of our own Neil Forshaw and the gents. Great night fellas ?

Posted by Newton and Earlestown Community Group on Friday, 31 May 2019
Bless 'Em All

It was a real pleasure to sing to a sold out audience last night at St Helens Town Hall. We came together as a town to commemorate those who made the ultimate sacrifice to ensure world peace. We must say a great big thank you to Ellie Hull who was Vera Lynne for the evening, to the ladies of the Barton Belles who made their first concert debut and wowed the audience, our accompanist Ruth Webb who was simply amazing, she played for the full concert ensuring that all singers were well looked after and not forgetting YOU! OUR AUDIENCE you all came together laughed with us, cried with us and remembered!
It was a real pleasure to sing to a sold out audience last night at St Helens Town Hall. We can together as a town to commemorate those who made the ultimate sacrifice to ensure world peace. We must say a great big thankyou to Ellie Hull who was Vera Lynne for the evening, to the ladies of the Barton Belles who made their first concert debut and wowed the audience, our Ruth Webb who was imply amazing she played for the full concert ensuring that all singers were well looked after and not forgetting YOU! OUR AUDIENCE you all came together laughed with us, cried with us and remembered!

Posted by Haydock MVC on Sunday, 11 November 2018